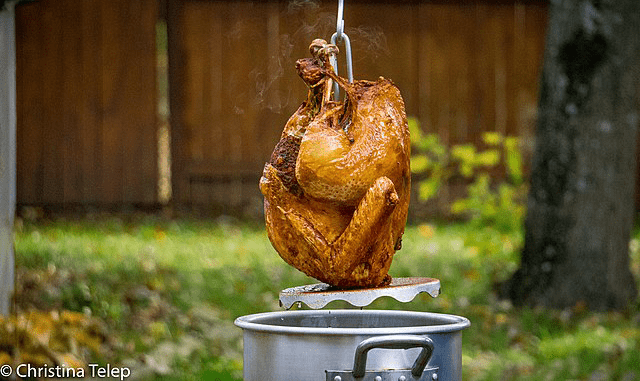 Do This, Not That: Turkey Safety
Do This
Thoroughly wash hands, surfaces and utensils with soap and warm water before and after handling your turkey. Use disinfectant wipes or spray on surfaces that may come into contact with food.
Protect your fridge and other foods by placing your raw turkey in a pan or on a liquid-proof liner while it's defrosting, marinating or brining. Carefully wipe down fridge surfaces with soap and water or disinfectant after the turkey has been removed.
Check the temperature of your turkey with a food thermometer in the thickest part of the thigh.
Cook your turkey to at least 165°F
Defrost your turkey slowly in the refrigerator in the days preceding the holiday.
Ensure your turkey is fully defrosted before attempting to fry.
Place your turkey in the fryer SLOWLY – it should take a few minutes to fully submerge the turkey.
Place the fryer outside, away from the house, other structures and people.
Serve the turkey immediately after it is cooked.
Divide leftovers to store in the refrigerator.
Not That!
Don't use the same dishes or utensils for cooked food that were used with your raw turkey until they have been washed with soap and water.
Don't eat raw fruits, vegetables or other food if the raw turkey or marinade leaked on them in the fridge! They will need to be thoroughly cooked or thrown out.
Don't check the temperature of the turkey in the breast or rely solely on the pop-up indicator that came with the turkey.
Don't rely just on color or appearance to judge if it is safe to eat the turkey.
Don't leave your turkey out at room temperature to defrost.
If you fry a frozen or partially frozen turkey, it can cause the fryer to explode and result in serious injury (and you won't have any turkey for dinner).
If you drop the turkey in quickly, oil can splatter and cause a fire or explosion.
Don't fry a turkey inside or let anyone play near the fryer. Even a wayward football could cause a fire or dangerous burns.
Leaving your turkey on the table for longer than two hours can allow bacteria to grow, which could cause food poisoning.
Larger items (casseroles, whole turkey, big portions) take longer to cool, and can result in an unsafe temperature range even in the fridge, so it's best to refrigerate in smaller portions.