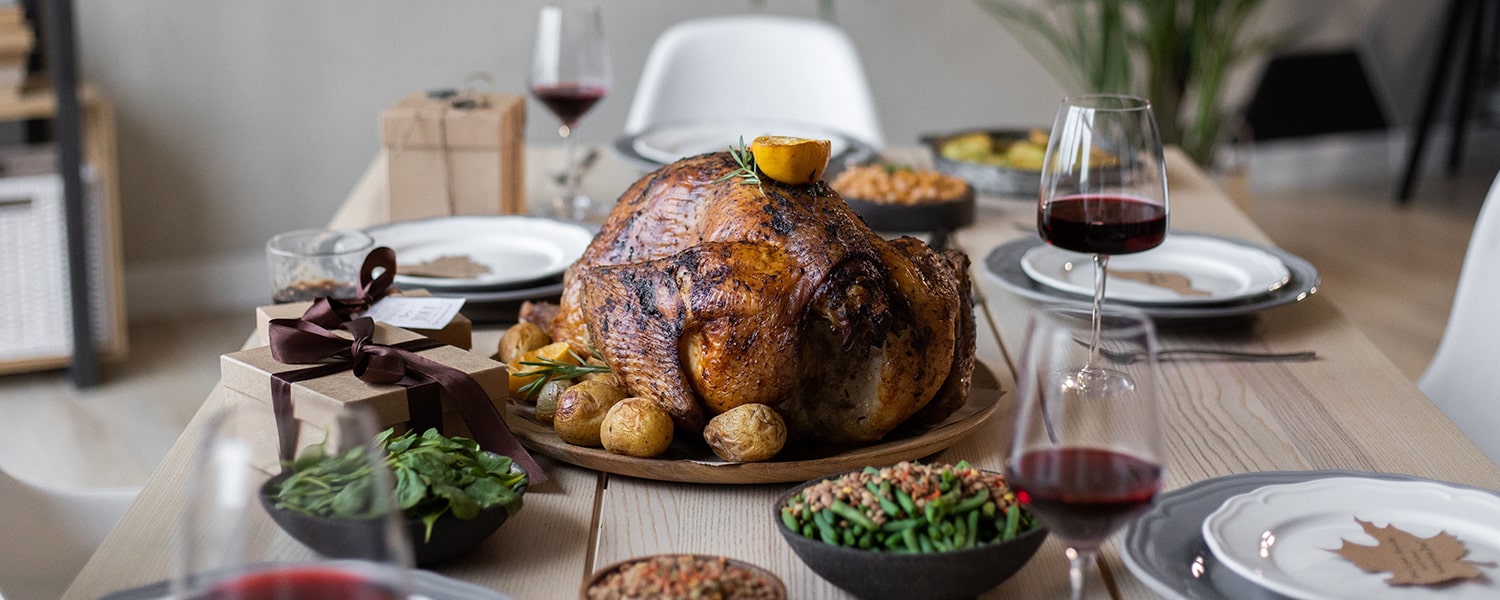 Holiday Safe Food
Holiday gatherings are full of friends, family, coworkers and good food. Unfortunately, food poisoning tends to occur in places where many people are served meals together – like potlucks, big family dinners, catered events and residence halls. Knowing the basics of food safety can help keep you healthy and ready to enjoy the holidays.
Food Poisoning
Clostridium perfringens (C. Perfringens) bacteria are one of the most common causes of foodborne illness ("food poisoning"), resulting in almost 1 million illnesses in the United States every year.
C. Perfringens is found on raw meat and poultry, the intestines of animals and in the environment. The bacteria make spores, which protect and help them survive longer. The bacteria can grow rapidly when food is kept at unsafe temperatures between 40-140*F. It can be difficult to keep large portions of food at safe serving temperatures, so outbreaks C. Perfringens infections tend to occur in places where many people are served, such as events with catered food and large holiday gatherings. While anyone can get food poisoning, young children and older adults are at high risk for more severe illness.
Symptoms
6-24 hours after someone ingests the bacteria, it produces a poison that causes diarrhea. The illness is usually sudden, and can lead to dehydration.  C. Perfringens infection cannot be spread between people and most people recover without requiring antibiotics.
Treatment
If you experience these symptoms after eating, be sure to stay hydrated by sipping on clear liquids such as water, broth or electrolyte-replacement drinks (like Pedialyte). When you're up to eating again, start with simple foods like saltine crackers, toast, bananas or rice. If you need to, you may take over the counter remedies, like Pepto Bismol or Imodium AD for a short period of time until you feel better.
According to the Centers for Disease Control (CDC), if you think you or someone you know got sick from food, you should report it to your local health department. Even if you don't know what food it was, reporting an illness can help public health officials identify foodborne illness outbreaks and prevent others from getting sick. 
Prevention
Learn the basics of safe food handling, including washing surfaces, utensils and hands with soap and water after being in contact with raw meat and eggs.
After food is cooked, keep it warmer than 140*F or colder than 40*F if it will not be eaten right away. Food should never be outside this safe temperature zone for longer than 2 hours at room temperature, or no longer than 1 hour if exposed to temperatures above 90*F (like a hot car or a picnic!)
If you're not sure how long an item has been out, play it safe, not sorry! At buffets and catered events, select the food that has been brought out most recently and be sure to eat it right away. Don't eat food left out in break rooms, for potlucks or on a counter after 2 hours.
Leftovers should be used within 3-4 days if refrigerated. If you want to keep them longer, freeze within the first 3 days

Hot foods can be put directly in the refrigerator
Divide large portions of food into smaller quantities for refrigeration as it helps them to cool more quickly to a safe temperature
Reheat leftovers to at least 165* before serving