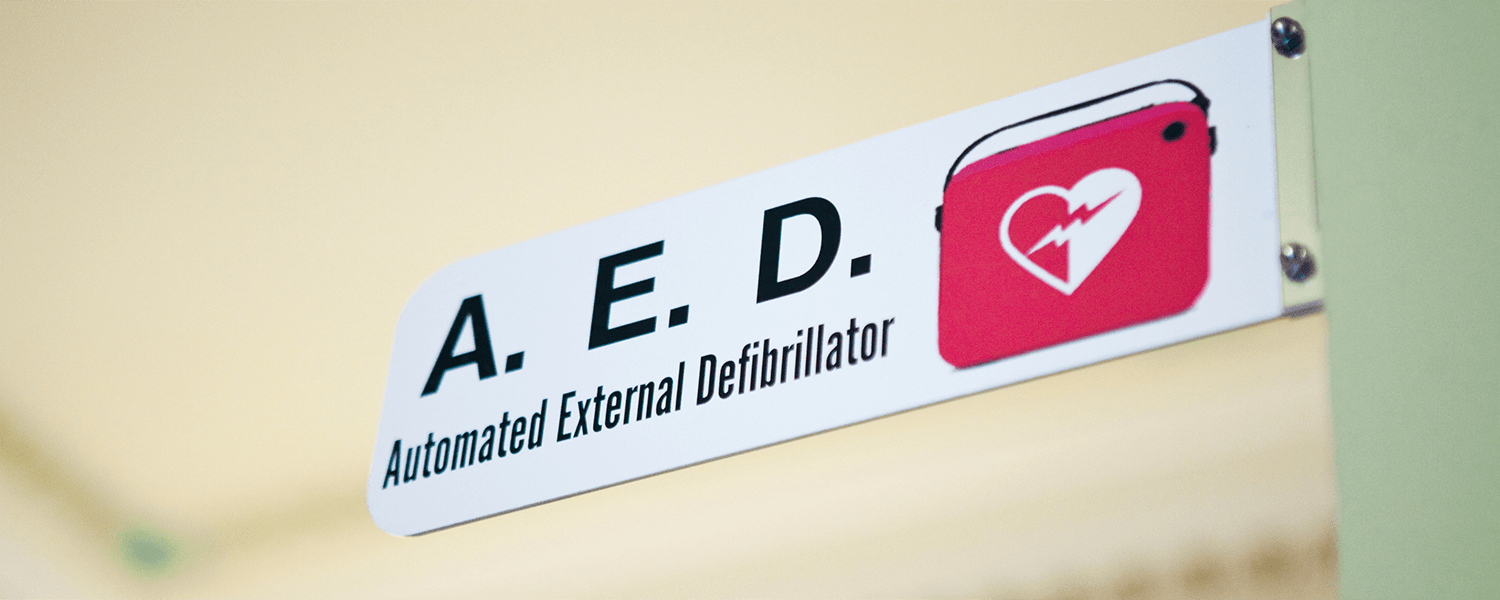 Automatic External Defibrillators
What is an AED? An acronym for Automatic External Defibrillator, AEDs are common sights in public locations such as gyms, schools and offices.
AEDs are compact, easy to use medical devices that analyze the heart's rhythm, and if necessary, deliver a shock to restart the heart. Sudden cardiac arrest is one of the top causes of death in the United States, and the only way to restore a normal heart rhythm in cardiac arrest is with a defibrillator.
In an emergency, 911 should always be notified. But knowing where to find and use AED along with performing CPR can save lives. In fact, for each minute after cardiac arrest in which an AED is not used, the odds for survival decrease by 10%.   
An AED system includes the machine and its accessories such as a battery and sticky electrode pads to be placed on the person's chest. AEDs give clear verbal instructions to the users once the machine has been powered on. Here is how they work1:
The user tuns on the AED and follows the voice prompts. (Some AEDs turn on automatically as soon as the lid has been opened).
The user will attached two sticky pads with sensors on the chest of the person in cardiac arrest. A diagram on the pad shows where they are placed.
The electrodes send information about the heart rhythm to the AED, which analyzes it to determine if electric shock is needed.
If a shock is required, the AED will prompt the user to ensure no one is touching the person in cardiac arrest, and ask the user to push a button to deliver the shock. ) Some AEDs deliver a shock without the user having to push a button).
The AED may also provide information on performing CPR until emergency medical personnel arrive.
While each state has their own requirements on the placement of AEDs, it is recommended that they be located where they are accessible within 3-5 minutes in workplaces and public spaces2. Unfortunately, more than half of all workers are unable to locate an AED at work, and only 2% of the US population is trained in CPR and AED use3.
However, CPR and AED training is widely available, and easy to learn. The American Heart Association (AHA) and American Red Cross (ARC) have online and in-person courses to help bystanders feel confident in their ability to respond to an emergency. Workplaces should encourage their employees to be CPR, AED and first aid trained, and ensure that there are multiple people who could respond to emergencies at any event.
To learn more about onsite CPR, AED and First Aid training, contact us here. Any1Health can provide fun, engaging and memorable training experiences to your event or organization – a lesson that will improve the safety and health of everyone around them.
Sources:
1 How AEDs in public places can restart hearts. FDA. https://www.fda.gov/consumers/consumer-updates/how-aeds-public-places-can-restart-hearts
2 AEDs in the Workplace. OSHA. https://www.osha.gov/aed/workplace
3 "Americans Unprepared for Workplace Cardiac Emergencies." American Heart Association News, 3 Oct. 2017, https://news.heart.org/americans-unprepared-for-workplace-cardiac-emergencies/.