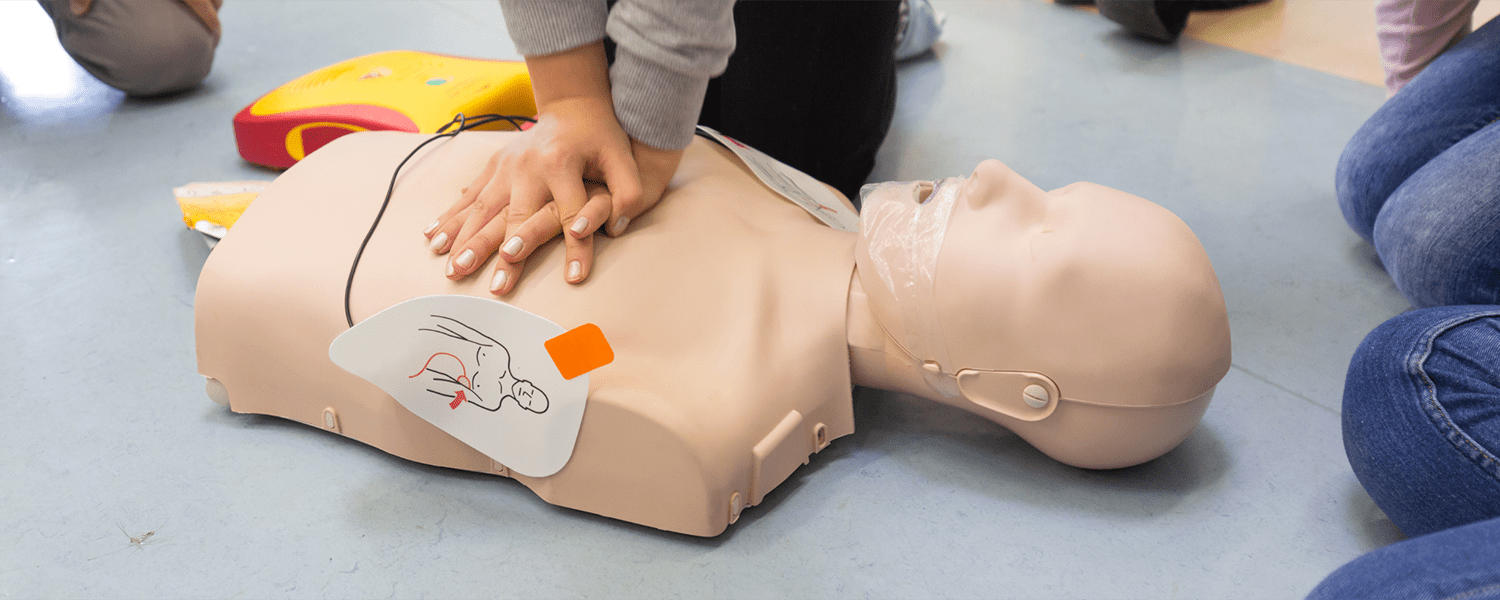 Cardipulmonary Resuscitation (CPR)
We've seen it in movies and TV shows and have heard it's important to know CPR, but ask yourself: "Am I prepared to respond in an emergency?" How many people in your social circles, workplace, or school would immediately recognize a situation and step up to perform CPR within seconds? For many of us, it's easy to think someone else is trained and would do it!
Unfortunately, only about 2.2% of the US population is trained in CPR and AED use1. AEDs in public spaces are much more common now, but more than 50% of all workers (66% of hospitality workers)2 cannot locate an AED in their workplace even if one is provided.
CPR training is something you need to have, but hope you never use. However, consider these facts:  
9 of 10 people who have a heart attack outside of the hospital will die if they don't receive CPR3
Receiving CPR before EMS arrives can double or triple the person's chance for survival3
In a study of nearly 50,000 participants, 66% of people who received an AED shock by a bystander right away survived and were discharged from the hospital3
In a survey of 1000 safety managers, one-third said lives were saved at work by first aid, CPR and AED training2
We owe it to our communities, families and places of business to learn CPR and be confident with using an AED. Certifications from the American Heart Association (AHA) and American Red Cross (ARC) are available for CPR and First Aid. These courses are recommended to help a bystander recognize and react safely to emergency situations. Courses usually require an online person with an in-person skills check, and certifications are good for one to two years. Free resources like Hands-Free CPR have short tutorials to help viewers learn the basics before they can sign up for a class, and CPR kiosks across the country show you how to perform CPR correctly on a built-in mannequin.
Only 50% of America's workplaces offer CPR or first aid training to their employees2. You can make learning CPR a fun and engaging experience while preparing people to save lives by incorporating CPR and AED training at your event, office or within your community. Contact us to schedule an on-site CPR training at your event with AHA-certified instructors.
1 "Americans Unprepared for Workplace Cardiac Emergencies." American Heart Association News, 3 Oct. 2017, https://news.heart.org/americans-unprepared-for-workplace-cardiac-emergencies/.
2 Mediagenic Survey Results: 2017. American Heart Association, http://newsarchive.heart.org/wp-content/uploads/2017/06/Results-Employee-Survey-FINAL.pdf
3 Facts and Stats. American Heart Association. https://cpr.heart.org/en/resources/cpr-facts-and-stats