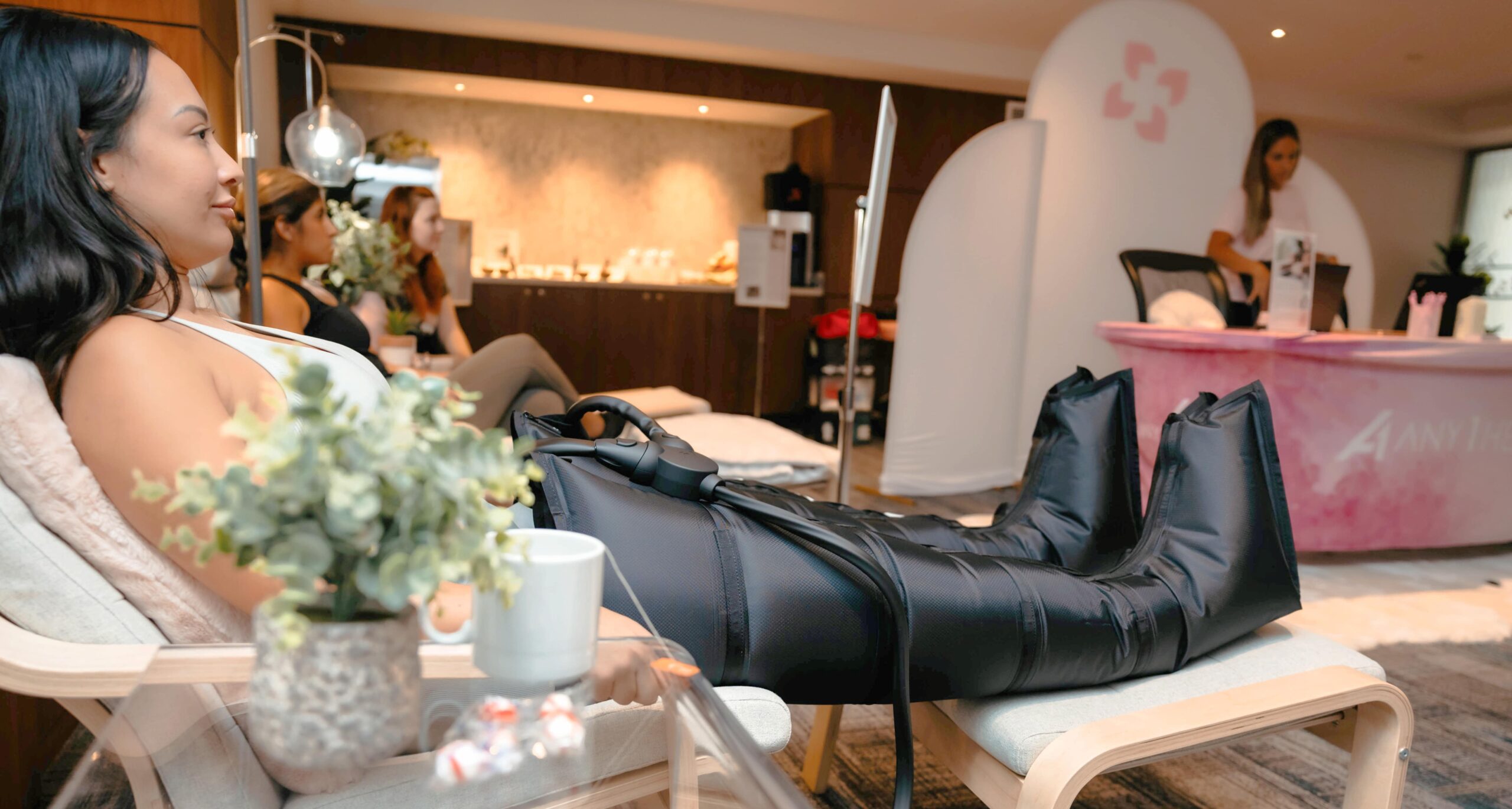 Revitalizing Events: The Rise of Localized Cryotherapy and Compression Therapy
Beyond the typical sessions and networking opportunities, there's a growing emphasis on attendee and staff well-being at events. Among the innovative wellness trends making their mark are localized cryotherapy and compression therapy. These fun, refreshing services add energy and generate buzz while offering a chance to cool down, feel great and connect with each other.
Benefits of Cryotherapy and Compression Therapy at Professional Events
Rejuvenation: After long hours of sessions or a hectic travel schedule, localized cryotherapy can offer attendees a refreshing boost by invigorating the treated area and reducing fatigue.
Reduction of Inflammation: Prolonged sitting, traveling, or even the stress of networking can lead to inflammation. Localized cryotherapy targets specific areas, offering relief and reducing inflammation.
Enhanced Recovery: Both cryotherapy and compression therapy can significantly aid recovery. Whether it's from physical exertion or travel-related fatigue, these therapies help attendees stay at their best.
Improved Circulation: Compression therapy, through its dynamic pulsing action, enhances blood flow, ensuring that attendees feel refreshed and reducing the chances of discomfort or swelling, especially in the legs.
Interactive Experience: Offering these therapies can make an event stand out, providing attendees with a unique experience that they might not have tried before.
Suggestions for Incorporating Cryotherapy and Compression Therapy
Dedicated Wellness Zones: Create areas within the event venue dedicated to wellness, where attendees can sign up or walk in for short sessions of either therapy.
Pop-up Booths: Partner with a wellness provider to set up temporary stations at different locations, offering attendees easy access to treatments.
Incorporate into Breaks: Use break times efficiently by allowing attendees to experience these therapies in-between sessions, ensuring they return rejuvenated.
Educational Sessions: Before diving in, some attendees may want to understand the science and benefits behind these treatments. Offer short informational sessions or handouts detailing the processes.
Industry Tips and Trends
Mobile Units: With the rise in popularity of wellness treatments, providers now offer cryotherapy and compression therapy units in an onsite wellness room, making it easier to incorporate them into various venues.
Bundled Packages: Work with providers to create custom packages tailored to the event's duration and expected number of attendees. This ensures smooth scheduling and better pricing.
Tech Integration: Use event apps or digital platforms to allow attendees to view and schedule their sessions, read about the benefits, and even provide feedback post-treatment.
Safety First: Always ensure that the service providers follow strict safety protocols. Have trained professionals on-site and ensure attendees are given clear guidelines before undergoing treatments.
The modern professional event aims to cater to the holistic well-being of its attendees. By integrating innovative therapies like localized cryotherapy and compression therapy, organizers can offer a multi-dimensional experience that leaves attendees refreshed, revitalized, and eager for more. As the landscape of events continues to evolve, such wellness-focused inclusions will set events apart, offering both value and novelty to participants.